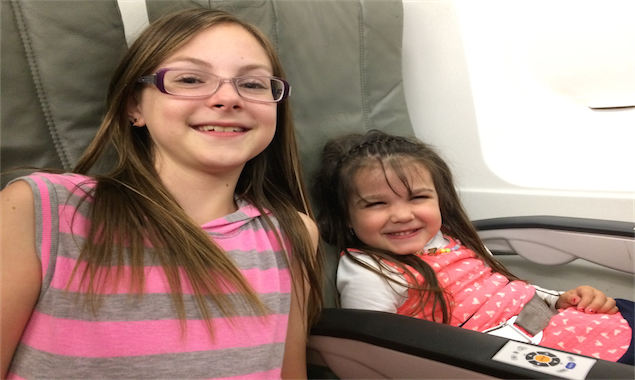 Traveling with small children can be a challenge.  Whether they are babies, toddlers, preteens or 'almost adults' a lengthy journey is not always a breeze!  When you head into an airport with small children in tow, every traveler who sees you starts praying that you're not going to be on their flight. And if you're standing outside the same boarding area, then they hope that your seat will be as far away from them as possible.
They can't run around so you need to find other ways of burning off excess energy, especially for those longer flights. The basic formula for traveling with kids is to keep them calm and entertained in a very small area.  Listed below are some other tips to help.
Book An Overnight Flight

Keeping kids still in a small confined space is a whole lot easier if they're normally sleeping at that time. If you can only get a late night flight that is long after their usual bedtime then let them take naps but save the big sleep for the plane.
Pack Savory Snacks

You really don't want kids trapped on a plane with a sugar rush. And you don't want that while you're trying to disembark either.  Pack sandwiches and small bite size snacks to keep them busy.
Give Them Backpacks

Children are allowed small backpacks so use it. Anything that you're taking to entertain them can go in it. There are tablets designed for toddlers, and apps that you could load on yours. Coloring books and crayons are a good idea.  Small puzzles, stickers, notebooks and anything that isn't too small or needs a lot of pieces to work is best. Also avoid things that make noises, simply for peace for both you and fellow passengers. You can also pack their change of clothes, a bag for soiled items, extra diapers and their snacks in here.
Another tip is to get your kids used to keeping themselves busy in small spaces for about two weeks before the trip. Depending on how long the flight is, start with an hour and work your way up to longer periods.  I would say two hours doing a single activity is perfect. You may not get quite that long but if they get used to doing one thing for a long time you won't run out of possibilities while flying!