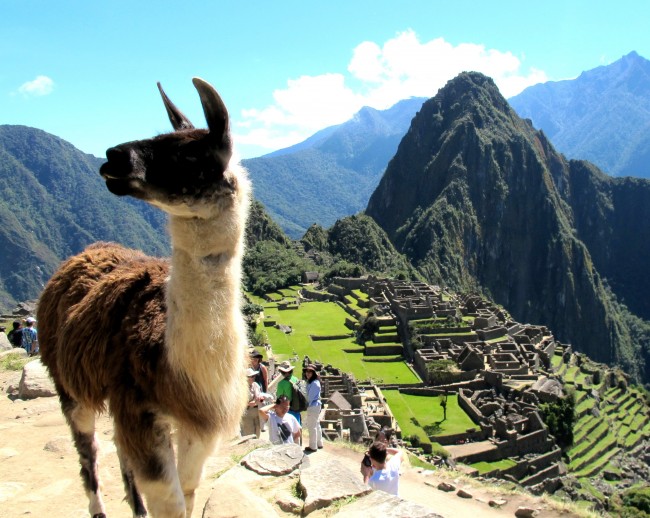 Peru is the third largest country in Latin America and also one of the most beautiful.  With a diverse variety of landscape, it's a paradise for nature-lovers.  Most of the population lives in Lima and other coastal areas, while the big draw of tourists flock more inland to the mountain slopes of the Andes.  Cusco is the main hub for those looking to explore the Sacred Valley and the ancient ruins of Machu Picchu.  Unfortunately, it has no international airport, so those visiting will have to fly into Lima and most likely spend the night.  This is required because of flight scheduling and you will find that many people just choose to sleep in the airport.  Not the most comfortable choice, but definitely a money savor.

Upon arriving into Cusco, the biggest factor you will notice is the elevation.  Sitting at 11,200 feet, it's a big change for those coming from sea level.  I noticed the difference from the moment I got off the plane.  This does take a little getting used to, but there are some local remedies to help, including coca leaf tea, which is served in the lobby of many hotels.  Also be sure to drink lots of water and get plenty of rest.

I found Cusco to be a picturesque mountain town with spanish arches and squares and wooden balconies overlooking narrow cobbled streets.  When exploring the city, I recommend keeping to the smaller roads because the main streets can be heavily polluted with exhaust fumes.  A great area to walk around is the neighborhood of San Blas.  Here where you will find many cafes and restaurants as well as the superior architectural work by the Incas which consists of precise, immense stone foundations and mortarless walls.
The main square of the city is Plaza de Armas.  This is a great place to people watch while enjoying a cold or warm beverage.  You'll also find a number of great bars and restaurants to choose from.  Two churches located by the square are La Catedral and La Compania.  Both are beautiful, but the must see is La Catedral.  This is the main church of the city and is absolutely amazing.  I have been inside many churches throughout the world and I'd have to say that this is one of my favorites.  The size alone is incredible, not to mention all the time and detail that went into the interior.  Be sure to rent a headset so you can take an audio tour explaining everything.
If you have not already booked, you'll find numerous tour agencies around Cusco.  It's here where you'll find tours to Machu Picchu and the surrounding areas.  Just keep in mind that Machu Picchu has a restriction to the number of people that can visit everyday, so plan accordingly during the high tourist season.  I really enjoyed the Sacred Valley tour which explores the beautiful countryside and the towns of Pisac and Ollantaytambo.  Pisac is an old Peruvian village and is well known for it's huge market.  The most popular day to shop there is on Sunday.  Ollantaytambo is described as a living Inca town which is overlooked by a hillside fortress known as Araqama Ayllu.

There are basically two main ways of getting to Machu Picchu.  One is to take a 4-day hike on the Inca trail or to take a 3 1/2 hour train ride from Cusco.  You can also take the train part way and then take a shorter 2-day hike.  If you're physically fit, these hikes are probably the best option because they really allow you to take in the scenery and when you come over that last ridge that enters Machu Picchu, you will really feel a sense of satisfaction of what you accomplished.  Another option is taking a 30 minute bus ride from Aguas Calientes.  This is the last town for visitors going to the ruins and also the last stop for the train from Cusco.
Machu Picchu is definitely one of the most beautiful places I have ever visited.  The ruins themselves are amazing, but what really stands out is the surrounding scenery.  Nestled high in the Andes, the lush green mountains aren't anything short of breathtaking.  You can spend all day exploring this city of the Incas on your own, but I highly recommend getting a guide.  You will get a much better understanding of what really took place here, the way of life, as well as an insight to the fine craftsmanship involved in building such a magnificent place.  Some people choose to visit just as the sun rises, while others go later in the day.  For the best chance of sunny weather, try to go in the morning before the afternoon clouds roll in.  No matter how much time you spend here, whether it be a few hours or all day, Machu Picchu will be a sight that your eyes will never forget.
——————–Peru Travel Tips——————–
When to Go
Most people visit Peru from May to August, when the weather is dry and sunny in the highlands.  Of course rain at Machu Picchu is always possible and just as a Peruvian once told me, weather in the mountains is like a woman, you never know when it's going to change.  However these winter months provide you with best opportunities of clear, blue skies.
What to See
– Machu Picchu
– Sacred Valley
– Plaza de Armas
– La Catedral
– The Cusco School
– Museo Koricancha
– Ollantaytambo
– Casa Concha
– Streets of San Blas
– The town of Pisac
What to Eat
Peruvian cuisine is one of the world's most varied and delicious.  Some popular staples include potatoes, corn, and chilies.  A specialty is Cebiche which is raw fish marinated in lime juice.  The produce in Peru is also very fresh.
What to Drink
The national drink of Peru is the Pisco Sour.  The most popular beer brands are Cristal and Cusquena while home brewed chicha (corn beer) is often sold at markets or during festivals.
What to Buy
You can find great deals on beautiful handicrafts.  Alpaca clothing is very popular and is said to be the world's finest wool.
Language 
Spanish and Quechua
Currency 
Sol
Tipping
Although not required it is nice to tip drivers, guides, and porters.  Hotels and restaurants add a ten percent service fee.