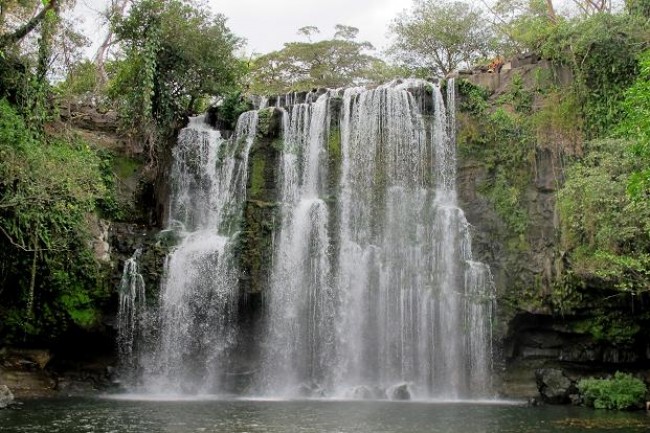 Costa Rica is a Central American country that lies entirely in the tropics and is boarded by the Pacific Ocean and Caribbean Sea. Boasting a wide range of habitats, this nation is one of the most diverse areas on earth. From rainforests and beaches to volcanoes and swamps, its natural beauty is endless. Home to almost 5 percent of the world's identified living species; Costa Rica is a haven for wildlife. In fact, the country contains more types of butterflies than the whole continent of Africa.
The best way to see Costa Rica is by renting a 4WD vehicle. The country's relatively small size enables one to cover a lot of ground in a short amount of time. The 4WD is essential if planning on venturing off of the main highways, especially during the wet season. Be aware that the police like to hassle money from tourists. If you are stopped and issued a ticket, don't pay them directly. Instead, tell them you will take care of the ticket at a later time. Many other tourists and locals know this and help one another out by flashing their headlights to oncoming traffic approaching the officer's whereabouts. Be sure to return the favor.
Depending on what you want to see will determine your direction. I chose the tropical beaches and the cloud rainforest of Monteverde. There are beautiful beaches on both coasts of Costa Rica, but due to a time restriction, I stayed on the west coast.  Starting in Liberia, I headed south on Pan-American Highway 1 before crossing over to Highway 34. You will run into the exit for Llano de Cortes Waterfall just 15.5 miles south of Liberia. This is a hidden treasure definitely worth checking out. The turnoff will take you down a dirt road to the parking area. After a short hike, you'll reach the very secluded waterfall. It's a great place to cool off and enjoy a picnic. On Highway 34 you will pass many beaches worth visiting. You'll also cross over the Tarcoles River, which is a great place to observe wild crocodiles basking in the sun. This is an excellent photo opportunity.
Jaco
The town of Jaco is a popular beach getaway for many residents of San Jose. Its waves make it a popular place among surfers, however there are frequent riptides. Jaco is considered to be a big party town consisting of a variety of bars and clubs. Weekends can often be crowded, so book hotels well in advance, especially if you're going during the dry season.
Quepos and Manuel Antonio National Park are due an hour south of Jaco. Quepos is a base for game fishing and also the gateway to Manuel Antonio National Park. The windy, two-lane road into Manuel Antonio is a neat drive and quite scenic. There are many restaurants along the road, but none more interesting than the El Avion. This C-123 transport plane was used by the CIA in the 1970s to run arms to the Nicaraguan Contras and was later converted into a restaurant.
Manuel Antonio National Park
Although the smallest of Coast Rica's national parks, Manuel Antonio is the country's most visited. This is no surprise due to its abundance of wildlife and magnificent beaches. Capuchin monkeys can be easily spotted throughout the park as well as occasional sightings of sloths, toucans, and macaws. There is a limit on the daily number of visitors, so be sure to arrive early and keep in mind that the park is closed on Monday. A really cool hiking trail is the one that encircles the former island of Punta Catedral.
Monteverde
Monteverde is a quaint town which boasts a pastoral alpine setting and is known worldwide for its unique cloud forest reserve. The drive up to Monteverde may be more difficult than initially imagined, but the views are well worth it. The dirt road is very rocky and a 4WD vehicle is almost essential.
Named for its misty atmosphere, the cloud forest is a major attraction for tourists. The best way to sightsee is to take a canopy tour which allows you to explore the forest canopy from more than 100 feet above the jungle floor. Suspended walkways, bridges, and aerial trams all offer a monkey's eye view and are a great way to experience the forest. For those looking for a little thrill, I highly recommend taking a Zipline tour where you can zip between treetop platforms at high speed.
Costa Rica is an excellent getaway for those looking for both wildlife and adventure. The rainforest is peaceful, yet full of life, and some of the beaches could easily be compared with those in Southeast Asia. Be sure to take advantage of the many natural habitats here and don't forget your camera. Whether planning a long visit or just a few days, you're sure to find meaning to the very popular phrase, Pura Vida!
——————–Costa Rica Travel Tips——————–
When to Go
The best time to visit Costa Rica is during the dry season between December and April. Hotels can be more expensive, but you're more likely to have better weather conditions. The wet season is also the hottest time of year and the rain makes many dirt roads impassable.
What to See
– San Jose
– Liberia
– Monteverde Cloudforest Reserve
– Arenal Volcano
– Manuel Antonio National Park
– Corcovado National Park
– Isla del Coco National Park
– Capuchin Monkeys
– Tortuguero National Park
– The canopy as you Zipline above it
Getting Around
A 4WD vehicle is the best way to see Costa Rica. It allows for the freedom to see this beautiful country at your own pace and is much more fun than taking a big tour bus.
What to Eat
The fresh fish is very tasty as well as other seafood. Gallo Pinto (fried rice and black beans) is the dish most associated with Costa Rica. You can also find delicious native fruit.
What to Drink
Costa Rica is known for its flavorful coffee. In fact, in the Central Highlands more than 425 square miles are dedicated to its production. Imperial and Pilsen are both excellent domestic beers. Refrescos, made with blended fruit and ice, are also very popular.
What to Buy
Wooden bowls, indigenous crafts, and jewelry. Coffee products make a great gift.
Language
Spanish
Currency
Colon
Tipping
In most restaurants, a 10 percent service charge is usually already added to your bill.